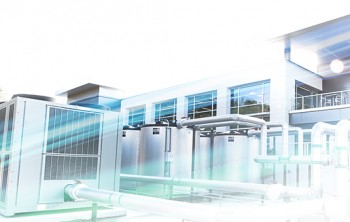 The electric grid is changing, as concerns about climate change and renewable resources increase. Thermal energy storage is becoming more important to building owners and utilities for their ability to enable growth of renewable energy resources. By acquiring CALMAC®, Trane can now offer building owners superior full-service energy management solutions that include the Thermal Battery™ system--- thermal energy storage for a renewable future.
Supports renewable energy:

 A Thermal Battery system can increase renewable energy use up to 50% making renewable resources more effective and affordable.  That helps with zero net energy design.

Supports high performance: To have lowest cost of operation, a building must be agile.  A Thermal Battery system can store clean inexpensive energy, when available, to be used during periods of high demand to help lower the cost of operation.

Supports grid resiliency:  A Thermal Battery system helps overcome the intermittency of renewable energy.  It can store excess energy to be used during times when the sun does not shine or wind does not blow. Additionally, a recent study suggests that these systems do more to help the grid during heat storms than previously thought1 . This is important for both grid resource adequacy planning and providing proper financial compensation, which in turn means more incentives for owners.
For more information on Thermal Storage Solutions, please click here:
1. Western Cooling Efficiency Center at University of California Davis
# # #
About Ingersoll Rand
Ingersoll Rand (NYSE:IR) advances the quality of life by creating comfortable, sustainable and efficient environments. Our people and our family of brands—including Club Car®, Ingersoll Rand®, Thermo King®and Trane®—work together to enhance the quality and comfort of air in homes and buildings; transport and protect food and perishables; and increase industrial productivity and efficiency. We are a $14 billion global business committed to a world of sustainable progress and enduring results. Ingersoll Rand products range from complete compressed air and gas systems and services, to power tools, material handling and fluid management systems. The diverse and innovative products, services and solutions enhance our customers' energy efficiency, productivity and operations. For more information, visit http://www.ingersollrand.com or www.ingersollrandproducts.com.